Designed and sited to fit local needs
Our proposals will provide carbon-free energy and added defence against coastal flooding for decades to come.
North Wales Tidal Energy & Coastal Protection (NWTE), based near St Asaph, was created to develop a world-leading integrated tidal energy and coastal protection scheme along the North Wales coast.
We believe that the need for large scale renewable generation technology will increase substantially over the coming years. To provide the predictable and reliable electricity generation that can meet the future needs of our society, it is essential to harness the power of the tide.
The coastal protection of local communities is at the heart of our thinking. Increasing flooding incidents along the coast and up the River Clwyd in recent years highlight the urgent requirement for added flood defences. Our plans will not only help to ensure the economic and environmental security for communities along the coast but will also deliver a greater return on investment for the Government and other investors.
Our proposals will provide significant direct and indirect employment for many years - the design, construction and operation of a tidal lagoon of the size and scale envisaged will be one of Wales' and the UK's largest infrastructure projects.
directors
Our board of directors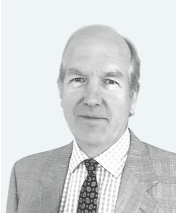 Henry Dixon
Chairman
Henry read Engineering and Management at Durham University. After service in the British Army, he joined Ferranti plc and worked in the telecommunications and defence industries.
In 1987, Henry and his wife founded Barrett Dixon Bell Ltd (BDB), one of the UK's leading industrial marketing communications agencies. BDB won the Queen's Award for Industry in 2011. In 2012, Henry was appointed High Sheriff of Clwyd by Her Majesty the Queen.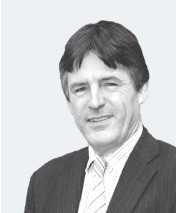 John Gardner
Financial Director
John is a partner in Gardner's Chartered Accountants based in North Wales. The firm is one of the largest firms in the area and has built a strong reputation for working closely with its clients to help develop their businesses. John is regularly involved with clients in business expansion plans and the acquisition and disposal of businesses.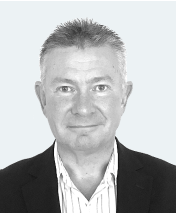 Andy Billcliff
Technical Director (O&M)
Andy brings over 35 years' experience in power plant development construction and operation. Starting in Barrow in Furness building nuclear submarines, Andy sailed as a marine engineer, then in the CEGB and successor companies gained experience in thermal, hydro, marine and wind generation before heading up the UK Hydropower business for RWE as director.
Andy is also Operations advisor to the MD of the Morlais Tidal Energy project, and a member of the Grwp Llandrillo Menai, corporation board one of the largest and most successful FE colleges in Wales.
Other recent appointments include chairing the Marine Task & Finish group and representing Marine Energy on the Energy Wales Strategic Delivery Group. Andy is also a board member of the newly formed 'Marine Energy Wales' group.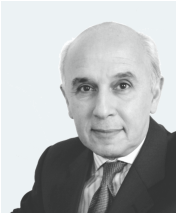 Dr Nader Bahri
Commercial Director
Having graduated with a BSc in Chemical Engineering from Birmingham University, Nader went on to gain his Masters and PhD degrees in Materials Engineering and Tribology. Nader has spent his working life in power generation at Mowlem, Powergen and E.ON.
During his time at Powergen plc, Nader helped the company to invest over £400m in successful projects. He was later appointed as the Senior Industrial Adviser, delivering the UK Government's commitment the EU directives on Combined Heat and Power and Renewables Obligation. As the Development Director for E.ON Energy from Waste (EfW), Nader established a market presence in the UK and secured a number of generation projects.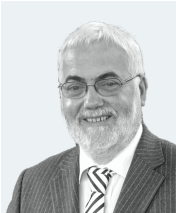 Dr David Vandercruyssen
Technical Director (Civil Engineering)
David, a Chartered Civil and Structural Engineer, joined the Generation Development and Construction Division of the Central Electricity Generating Board (CEGB) in 1988. Following privatisation in 1990, David remained with successor companies (National Power & RWE Generation) until 2014. He worked on the development, construction and maintenance of power plants throughout the UK and overseas. David was Head of Civil Engineering for RWE Generation UK for the latter years of his service.
David set up his own consultancy business in 2014, served 3 years on the Institution of Civil Engineers Expert Safety Panel and on the Energy Journal editorial panel for two years.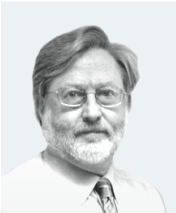 Professor John M. Reynolds
Technical Director (Environment)
John is a technical expert in geology and geophysics and the founder and Managing Director of Reynolds International, the UK's leading independent near-surface geophysics consultancy.
He has pioneered many world firsts in geophysics and has been involved in most of the UK's highest profile major infrastructure projects such as Crossrail, Thames Tideway Project and the New Mersey Crossing. He and his team have pioneered the development of 3D Ground Models in major infrastructure projects and especially in offshore renewable energy projects, where he is the acknowledged UK leader in this field.